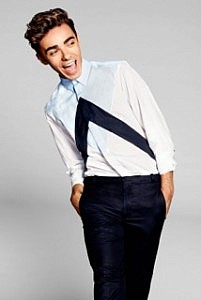 Nathan Sykes is following in the footsteps of Justin Timberlake and Nick Jonas. They both evolved from massively successful boy bands to heartthrob solo artists. Making that transition is not an easy one. Many have tried and failed but Nathan will not fall into that category.
Born with an incredible musical talent, he started signing when he was six years old. By the age of ten, he was winning local competitions. He joined the British boy band The Wanted when he was 16. I had the pleasure of working with the band for a few years. We shared a lot of fun memories (including adventures in London, NYC, LA, San Diego and Las Vegas) and big success. Their first single, "Glad You Came" went all the way to #1 here in the US. I watched as they went from being unknown to heartthrobs.
Nathan is now launching his first solo project and has a powerhouse team behind him (Global Entertainment). He is incredibly talented and really fun to hang out with so I am thrilled I get to also work with him on his new project. The first single is a fun uptempo song called, Kiss Me Quick. Recently, while he was doing a bunch of press for the new song, we grabbed a few minutes to find out his healthy secrets and all about his new music.
You can watch the Rockstar Health & Fitness video interview here: