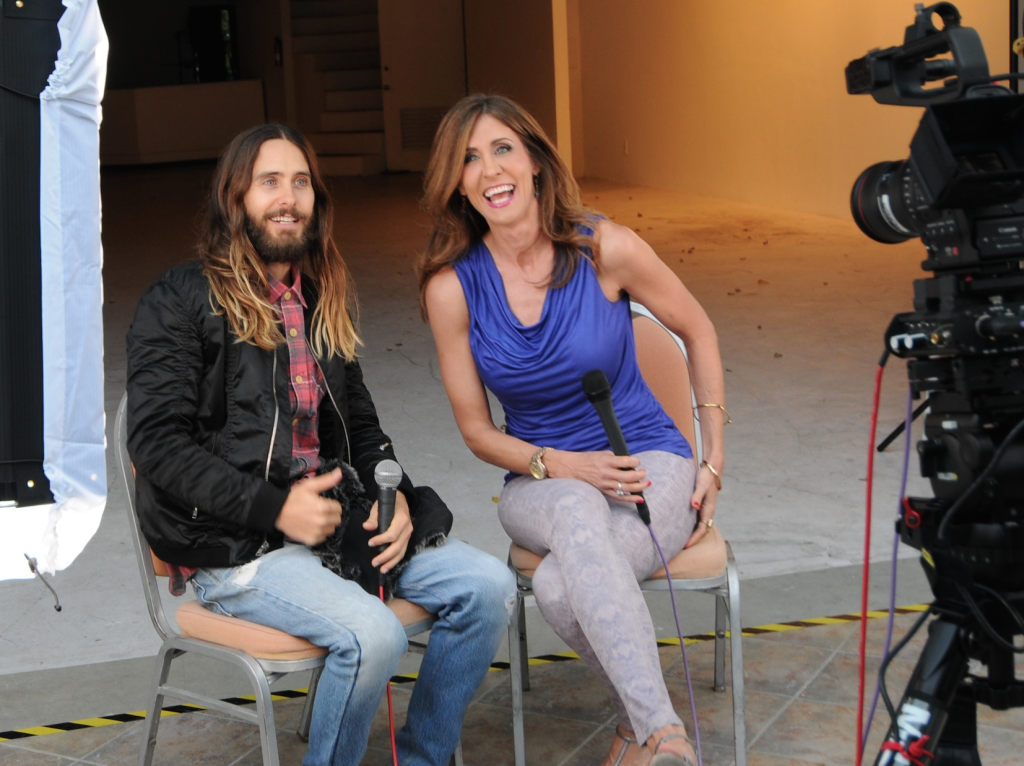 I will never forget the first conversation I had with Jared Leto. We originally met in 2008 when I was working with his former management company, The Firm. We were in NYC and I took him to do a radio interview at Z100. He had just finished filming the movie "Chapter 27" where he played Mark David Chapman, the man who killed John Lennon. He had to gain 60 lbs for the role and it was the details of how how he did it that hauntingly stayed with me. He told me he he would set his alarm in the middle of the night to wake up so he could eat cereal, ice cream and pizza. He would eat so much that he would have to sleep propped up with pillows or in a recliner so the food wouldn't give him excruciating heartburn. He got so sick from the weight gain he could barely walk, and would use a wheelchair to get around the set. He developed gout and said his body was continually in pain. He felt toxic, lethargic and depressed. It was a quick dose of reality to see how miserable life can be if you don't take care of yourself. Which we know is a conscious choice.
It is important that Jared operate at the top of his game so we can all enjoy his multi-talented abilities. Jared is one of the biggest rock stars in the world as the lead singer/guitarist for the band, Thirty Seconds to Mars (who recently I had the pleasure of working with again). In addition, he is such an incredible actor that in March 2014 he won the Academy Award for Best Supporting Actor for his role in the movie "Dallas Buyers Club."
Jared recently released a documentary called "Artifact" that is a must see! It is a true story of how his record label tried to sue his band for 30 million dollars, and they document the entire process. Having grown up in the music business, this movie was especially fascinating to me and I knew everyone that was interviewed. It's a modern day David and Goliath story. It also inspired their latest album Love, Lust, Fatih + Dreams, which had 3 big radio hit singles (including my favorite "Do or Die"). You can find the movie on Netflix, iTunes or Amazon, and I highly recommend it.
After our initial conversation about the horrors of his weight gain, I couldn't WAIT to now learn his healthy secrets. The first secret he shared with me was that he loves to workout in nature. That is something we have in common, which explains why we frequently run into each other hiking in the Hollywood Hills. There is something incredibly powerful about exercising outdoors. You can easily reconnect with your center by taking in the beauty all around you… which is also a form of mindful meditation. His favorite outdoor activities are hiking, and snowboarding. He gets the majority of his workout running around on stage while Thirty Seconds to Mars is performing. He is known for his high energy performance that includes climbing up poles and practically hanging from ceilings. Meditation is also something he practices regularly. This allows him to maximize his creative genius and continue to evolve as an artist. Which is something else we have in common, meditation is one of the most game changing aspects of life you can practice. It will take you to a whole other level you didn't know was possible. Some of the most successful people I have met have a strong meditation practice. Jared is a big fan of using the app for meditation called Headspace.
When it comes to his diet, Jared is a vegan, or as close as he can get. I found another common thread in our healthy lifestyle secrets. "It's all about moderation" he told me. Clearly it's working for him, in 2014 he was named PETA's World Sexiest Vegetarian. I found it ironic, when the band was recently on tour with Linkin Park and it was called the "Carnivore Tour" which thankfully included a vegan chef backstage. HIs favorite foods are popcorn, vegetables, and he loves hot chocolate with almond milk.