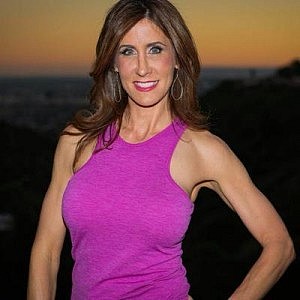 Lori Rischer is a creative powerhouse. Her experience in the entertainment industry includes work as a music executive, health and lifestyle expert, television and film producer and author. With such a busy lifestyle, her life philosophy revolves around balance, and it's one she carries with her in every aspect of her career; whether it's management of megastar artists or helping others find their yin through yoga therapy and a healthy lifestyle.
Right out of college, Lori started her journey in the music industry, where she's been a respected mentor and executive for many years. Her industry experience includes executive positions at major labels, including Island Def Jam Music Group and Sony Music, working on teams that fostered and promoted superstar artists like Rihanna, Justin Bieber, Mariah Carey, Bon Jovi, Melissa Etheridge, Aerosmith, Elton John, Jared Leto and Fall Out Boy.
She also spent several years at The Firm one of Hollywood's top management companies based in Beverly Hills, where she signed OneRepublic and was on the management team for artists such as Enrique Iglesias, OneRepublic, Ice Cube, Mandy Moore, Korn and many others. Currently, she's the Senior VP of Marketing and Promotion at In2une Music, where she works closely with independent artists Lindsey Stirling and Major Lazer; in addition to overseeing the campus lifestyle marketing department with a team of 40 reps at major universities around the country.
Her work has been widely recognized by the music industry. In fact, she was named the 2010 Promotion Executive Trendsetter by FMQB Magazine and the 2010 Executive of the Year by SIN Magazine, two highly respected industry publications.
Her talents don't end with the music business, she can frequently be found creating and producing online, film and television projects as well. For three years, she teamed up with KIIS-FM in Los Angeles for their popular Yoga On The Pier and Yoga On The Beach summer promotions. Teaching the class every Saturday morning in the summer and was named Huffington Posts' "Five Best Summer Workouts" and was featured in the LA Times, Malibu Magazine, LA Yoga Magazine, Pepperdine Times. In addition, she spent many years as the health & fitness spokesperson for KIIS-FM.  She's also co-creator, co-executive producer and host of the celebrity health and fitness show from SkeeTV, Rockstar Health & Fitness.
This year, Lori teamed up with John Legend to produce an inspiring animated film and put her philanthropic side to work developing an action thriller TV series set in South Africa that tackles wildlife trafficking issues. Her hope is to create awareness that will encourage the protection of elephants and rhinos around the world.
With all this experience behind her, it's no surprise that she's using that knowledge to write her first health and lifestyle book, Top of Your Game – 13 Secrets to a Healthier, Happier Life. A project she hopes will encourage and promote a healthier life for other people.
Giving back to the community is another important way Lori wants to create balance and a healthy lifestyle. She supports several charities that are very close to her heart. In 2008, Lori received the highest honor from the Make A Wish Foundation, the Chris Greicius Celebrity Award, for her work in helping make wishes come true. She has also lectured at the Make A Wish Worldwide Conference. Additionally, in 2008 she was inducted into the Mentor Hall of Fame and this year, she completed her 15th year as a volunteer working with inner-city teenagers for Youth Mentoring Connection.  She is also involved with A Place Called Home, a community center in South Los Angeles for at-risk youth. The Los Angeles City Council recently honored Lori for her contributions in making the city a nicer place to live.